In Episode 14 of Beyond Conventional Marketing, I talk to Luis III Velasco, the Senior Vice President and Head of Marketing at Jollibee, about how small and medium brands can leverage digital marketing to thrive in a dominated market.
Listen to our full conversation here:

Jollibee is a Filipino chain of fast food restaurants owned by the Jollibee Foods Corporation (JFC). Founded in 1978, Jollibee has evolved into a dominant quick service restaurant brand in the Philippines, and 34 other countries, including the US.
Every brand and business focuses on digital marketing today. But not everybody has an endless budget and big teams. Is there anything that works for small and medium brands?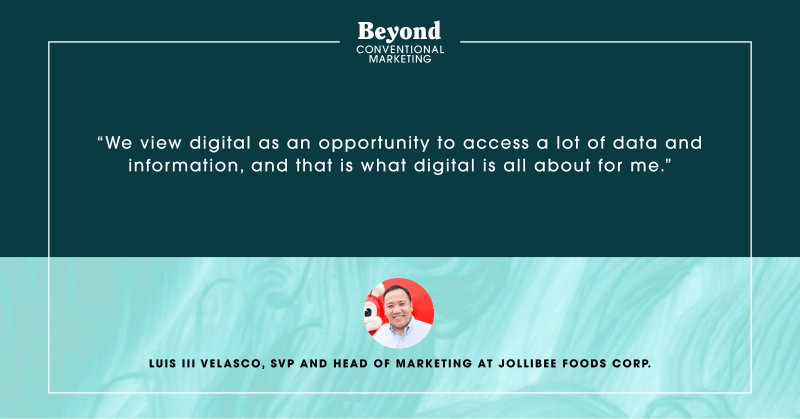 Digital is a crucial part of driving marketing and business initiatives. But at the same time, small brands encounter limitations on people, investment, and resources. To deal with them, Jollibee had set up strong fundamentals and identified three directions on how digital could help the business. One is the reach of a different or broader market, accessibility, and personalization through data analysis.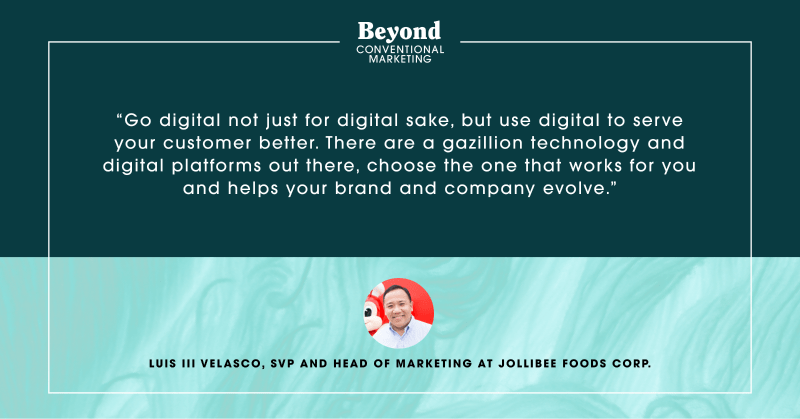 Not all brands can afford big teams and endless budgets. So, it's really important to define the fundamentals you can focus on to be impactful and connect with consumers.
Listen to the full episode to hear these fundamentals, the challenges faced, and Luis's approach to solving them.
What you can expect to learn:
Adapting to consumer's preferences
How digital marketing allows you to overcome traditional marketing challenges
Digital marketing personalization and data analysis


For more insights from marketing leaders, you can also keep up with the latest episodes of Beyond Conventional Marketing by subscribing to the podcast on Apple Podcasts, Spotify, or wherever you get your podcasts.
Listening on desktop and can't see the links? Just search for "Beyond Conventional Marketing" in your favorite podcast player.