In Episode 19 of Beyond Conventional Marketing, I speak with Diana Haussling, VP & General Manager of Consumer Experience and Growth at Colgate-Palmolive, about engaging consumers across the consumer journey.
Listen to our full conversation here:
Colgate-Palmolive is a global CPG brand that is dedicated to improving the health and wellness of people and their pets. Their personal care brands have become household names since their founding in 1806. For the past two years at Colgate-Palmolive, Diana's role has been focused on the consumer-centric aspect of marketing, creating delightful experiences to reach consumers wherever they are.
Now more than ever, personalization is essential for heightening the customer experience. Technology has made consumers more knowledgeable and powerful, whether they are taking advantage of cell phones to discover new brands or do research on yours. Marketers have had to evolve alongside the consumer, which often means rolling up their sleeves and digging into data as well as lived experiences to understand their customers.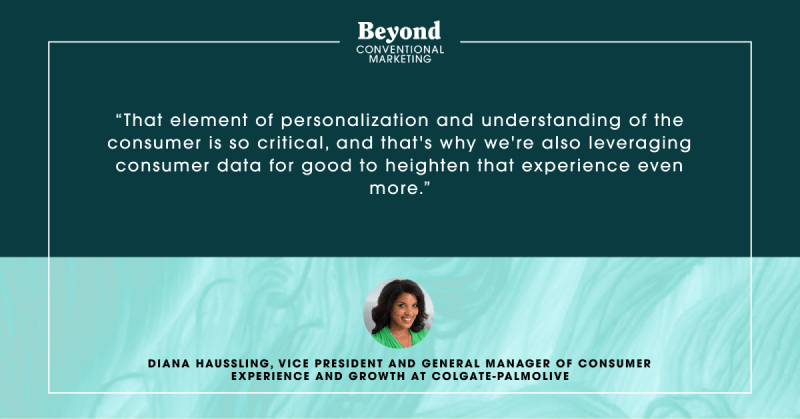 Diana's team at Colgate-Palmolive is a relatively new one, which was born out of a need to connect consumer experiences across platforms and rethink their structural approach to marketing. Their structure, like most brands, used to be rigidly focused on this vs. that: for example, upper funnel vs. lower funnel conversions, or in-person vs. online consumers. Now, these considerations have been condensed into one powerful consumer, who may use their phone to research online while standing in front of your products in a store.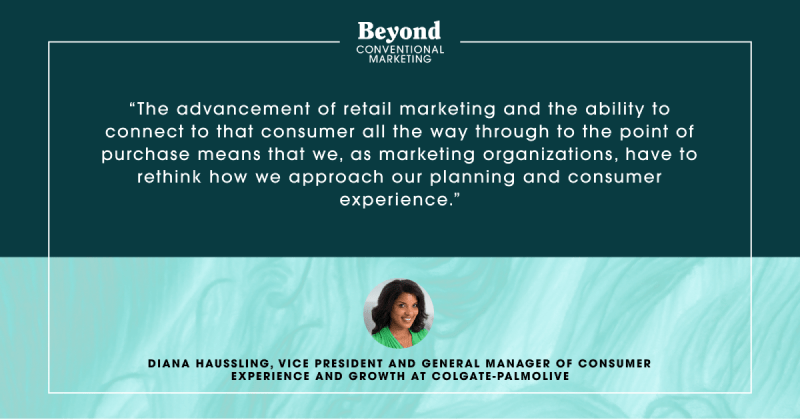 Today, Colgate-Palmolive's marketing strategy starts with two questions: first considering the what—"what do our products mean to the consumer? How do we define our brands?" The second question is how: "how do we engage consumers? How do we help consumers see the relevance of our brands?"
The heart of marketing has barely changed: you still need the foundation of understanding your consumer. But how we do that has definitely evolved. The evolution of marketing is digital; "if you're a marketer today, you have to be a digital marketer." According to Diana, the biggest shift in marketing is the need to form intelligent partnerships across functions within your organization, or partner with different organizations to help your brand reach its goals.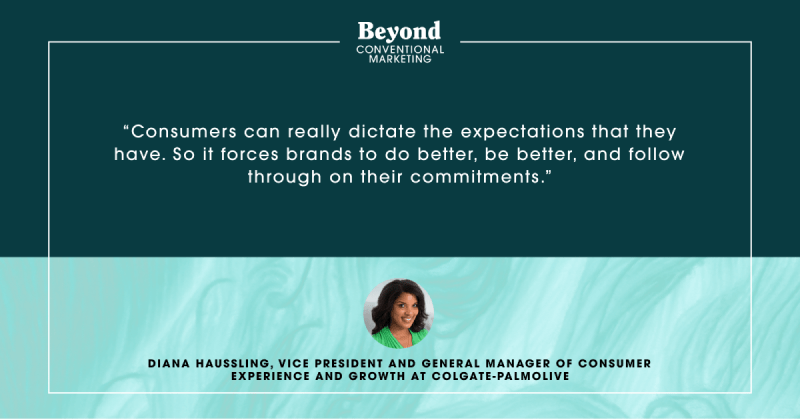 Data and analytics is the name of the game when you're going after a consumer base as large as Colgate-Palmolive's. In the next six months, the company plans to further build out their processes for collecting consumer data and acting on insights to deliver thoughtful omnichannel experiences.
Diana left me with this advice for marketers: get out of your head and try to understand your consumer. Get into your brand's stores and see your products in the wild. "If you don't understand the lived experience of consumers who don't look like you, you're not going to have a successful brand in this environment."
She also offered some inspiring words for other Black and brown marketers: "we need you in the room. Keep pushing to be heard, and keep speaking up."
What you can expect to learn from the full episode:
How to build a seamless customer experience

Elevating the consumer journey

The importance of leveraging consumer data
For more insights from marketing leaders, you can also keep up with the latest episodes of Beyond Conventional Marketing by subscribing to the podcast on Apple Podcasts, Spotify, or wherever you get your podcasts.