This new round of funding was led by Gutbrain Ventures and PBJ Capital, with participation from our existing investors including Streamlined Ventures, CXO Fund, Amino Capital, and Startup Capital Ventures. This brings the total funds raised so far to $11M which will help us meet the increasing demand for our AI-powered personalization platform.
I am beyond ecstatic to share that Breinify.ai has shattered milestones entering our new chapter of powerful personalization growth with a fresh round of $6M in seed capital.

– DIANE KENG
This round of funding was oversubscribed and 4x our initial funding ask, with the closing in under 2 weeks. We are super excited to partner with Bob Davoli, the managing director of Gutbrain Ventures, and Bruce Clarke, the managing director of PBJ Capital.
I would like to give a huge thank you to all our Breiniacs (our team, customers, investors, and advisors) for your unwavering support and belief in Breinify. I could not be more proud of the passion, intelligence, and perseverance demonstrated by everyone here to make things happen.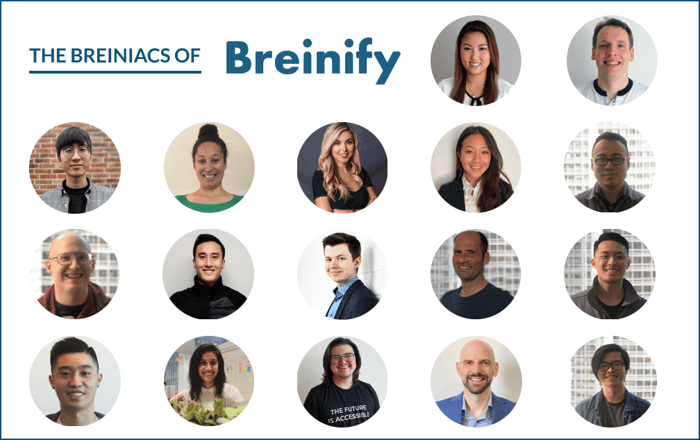 In an unexpected way, 2020 turned out to be the year of the consumer. Emotions were at a record-breaking high; people around the world were confused, frightened, and apprehensive. Companies in every industry had to learn quickly and adapt if they wanted to survive. Consumers became savvier shoppers who prioritized brand education, supporting the companies who aligned with their core personal values. In this time of economic uncertainty, consumers felt their every dollar counted and this made every decision matter more.
Now in 2021, personalization is more important than ever. There is no room for broad, generalized marketing. Consumers expect personalized experiences that subtly enables them to discover and find products they actually want. Data science is a powerful way to take personalization to the next level.
At Breinify we democratize data science for non-technical marketers with our AI-powered personalization platform. Our solution allows revenue leaders to achieve more by doing less, to invest in smart systems instead of headcount, and to drive delightful consumer experiences on an individual level with minimal engineering. Breinify has stealthily emerged as the leading platform for specialty retailers and consumer packaged goods.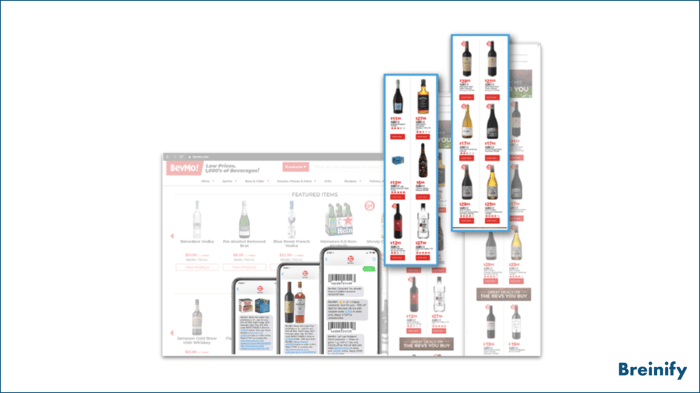 Breinify's journey began in 2015 when we uncovered the need for data science in marketing due to the lack of data science talent at consumer facing brands. Not many data scientists aspire to use their skills to sell salad dressing, shampoo, or beverages. We started out by building APIs and training our own temporal algorithms. Then we focused on expanding our solution with the goal of being as lightweight as possible. These differentiators set us up for longer term success. We were able to land-and-expand with customers and upsell approximately 80% of our customers from a POC to contract in 2020.
I'm extremely proud of our solution because many personalization marketing technologies require the following:
Really analytical marketers to curate and create business rules
A supportive engineering team to integrate
An understanding of data collection
And this is all before being able to apply machine learning! But with Breinify, we make it really easy for our customers to implement personalization regardless of what their team looks like or their understanding of data science.
Our product specializes in a temporal AI: we combine structured and unstructured data and apply machine learning for real-time consumer experiences. Our solution is extremely lightweight (we integrate in <14 days), powerful, scalable, and fully end-to-end––providing measurable results and ROI with customizable reports and dashboards. Best of all, it allows any consumer brand to harness the power of data science without the overhead of managing their own data science teams.
Our customers absolutely love Breinify because we bring true, impactful results. Matt Champion, the CMO of BevMo!, refers to us as "essential" and "the backbone of their marketing strategy." Other marketing leaders have described us as an "accelerant" as we worked side by side to surpass business objectives. We help our customers increase brand revenue by 51% year over year, increase engagements by 67%, and achieve an ROI of 8-10x within 6 months.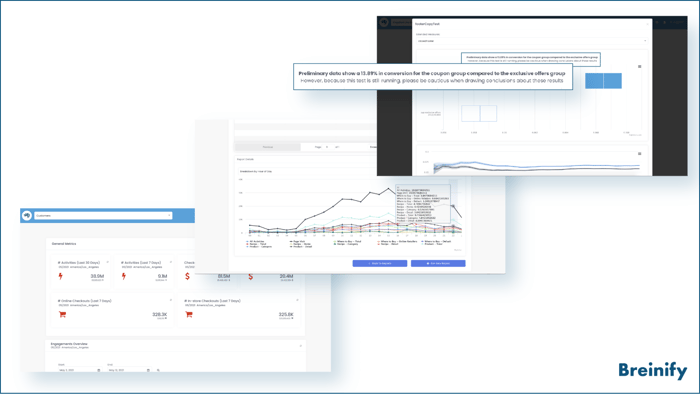 As a company, our mission is to democratize data science by making predictive capabilities accessible to all. Our vision is to empower brands to humanize cross-channel relationships with their consumers through powerful predictive personalization at scale.
Our platform was built from the ground up to do the following:
Empower smart data collection
Breinify identifies actionable insights by collecting and tagging first-party data from multiple sources, engineering-free.

Optimize the consumer journey and testing
We focus on growing the CRM with smart segmentation and apply these as dynamic experiences. We also convert more first-time visitors into reachable users.

Activate hyper-relevant content and product recommendations
We take existing layouts and components across marketing channels (email, web, applications, SMS) and transform static pieces of content into fully personalized suggestions–and we are able to approach returning, first-time, and known customers individually.

Offer predictive personalization
Since time is of the essence when it comes to capturing sales and engagement opportunities, we use strong algorithms to proactively deliver experiences unique to each visitor in real time.

Include end-to-end, impactful analytics and reporting
To understand campaign successes, our product goes beyond click-throughs and helps track the full consumer journey sequence. We offer continuous analytics to enable the identification of new opportunities. And we work tirelessly to make these features accessible because if insights are not easy to understand, they aren't relevant.
With a clear north star, Breinify is just getting started. Within the last 18 months, we have 7x our valuation as we continue to expand sales, growth, and customer success, as well as our use cases and product features.
Our team is also growing! If you are ready to join what will be a $10B+ company, apply for opportunities at Breinify. We have a great culture that we've worked passionately to create and a bunch of exciting roles.
To our customers, existing and soon to be 😉, we love the partnerships we're creating, the constant feedback and collaboration, and are so excited about everything we're going to accomplish together!
Big shoutouts to all of our investors (Bob, Bruce, Ullas, Gary, Atul, Larry, Donavan, and many more) - we appreciate the extra fuel to our fire.

On behalf of all Breiniacs–big kudos to all the things we've accomplished in the last few years and here's to the upcoming exciting and exhilarating new chapter of Breinify's growth. In the words of the great leader Steve Rogers - "Avengers, assemble!"
It's time to step on the gas and face new challenges!
Diane & Philipp