The Problem
Claro Colombia is the largest telecommunications provider in the country of Colombia, with nearly 34 million subscribers – more than 60% of the country's population. This company has a large market of users that subscribe to pre-paid mobile plans, which require users to purchase recharges to "top off" their plans to receive more minutes and cellular data for their devices.
Claro Colombia had two main goals: increase the number of recharge checkouts by 5% through personalized push notifications for individual users and streamline the business process for launching new marketing campaigns.
In addition to their main goals, Claro Colombia also wanted to see:
Clear split testing between customers who receive Breinify-powered push notifications vs no push notifications
Health metrics for the campaign, such as push notification sends, opens, and checkouts
More variations of copy built from consumer behavior and context
Results
Breinify activated a POC for Claro Colombia within 30 days, and throughout our partnership, we helped Claro:
Increase the recharge checkout rate for prepaid packages by 17.5% by sending push notifications with dynamic content and smart timing
Increase total sales for recharges by 31.63%
Shift from static campaigns to personalized campaigns with 180+ variations in copy, without manual curation or writing business rules.
Through a combination of personalized push notifications, dynamic testing, and improved analytics, Breinify's solution increased total checkouts for Claro Colombia by 16.4%.
"Breinify offers the AI and personalization tools that every business should be using. Instead of manually creating campaigns and curating consumer experiences, we're able to focus on the bigger picture. Without Breinify, that wouldn't be possible."

– Andres Zuluaga, Claro Colombia
Breinify's Solution
Our AI is integrated into both Claro Colombia's iOS and Android apps to collect data on user behavior and trigger push notifications through their existing Firebase Cloud Messaging setup. Breinify created personalized push notifications to improve recharge checkout rates, utilized dynamic testing to ensure success, and provided Claro Colombia with analytics to clearly show campaign results.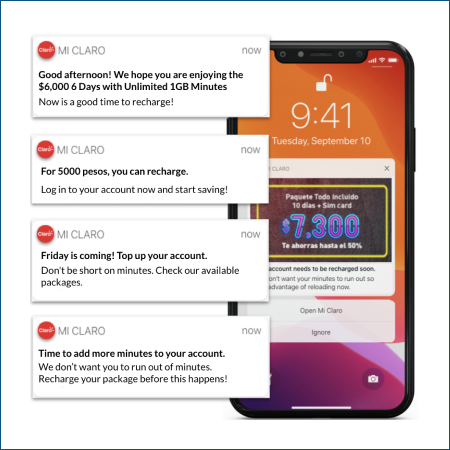 To help optimize Claro Colombia's data collection efforts, Breinify:
Collaborated with Claro Colombia's 3rd party app developers to integrate activity collectors for page visits and checkouts.
Proactively helped to identify errors and fixes within the Claro Colombia app.
In addition to data collection, Breinify helped Claro Colombia develop personalized push notifications and reduce the manual involvement of marketing teams in launching new campaigns. To do this, we:
Used our AI to identify opportunities for additional messaging and provided sample copy for various campaigns.
Enabled a hands-off process for marketing, minimizing the need for marketing teams to manage engineers and analytics teams to integrate Breinify's solution.
With the success of push notification campaigns to drive recharge checkouts, Claro Colombia has expanded their partnership with Breinify to encompass two additional departments.
To learn more about how we work with brands in the telecommunications industry or see what personalization can do for your business, get in touch with us today!