In Episode 6 of Beyond Conventional Marketing, I speak with Kyle Maurer, VP Digital Marketing and Gaming at Monster Energy, about how attention is the most valuable currency your audience has to offer and how organizations can earn it.
Listen to our full conversation here:
Monster Energy is best known for their energy drinks, becoming the go-to beverage for a host of athletes, musicians and fans alike. By going beyond the product, Monster Energy has created an incredibly loyal community and fanbase by putting them at the heart of their organization.
In this episode, Kyle and I talk about how to win the attention of consumers in a time when they're being pulled in a million different directions. The key takeaway here is that marketing teams need to work iteratively in order to keep their audience's attention.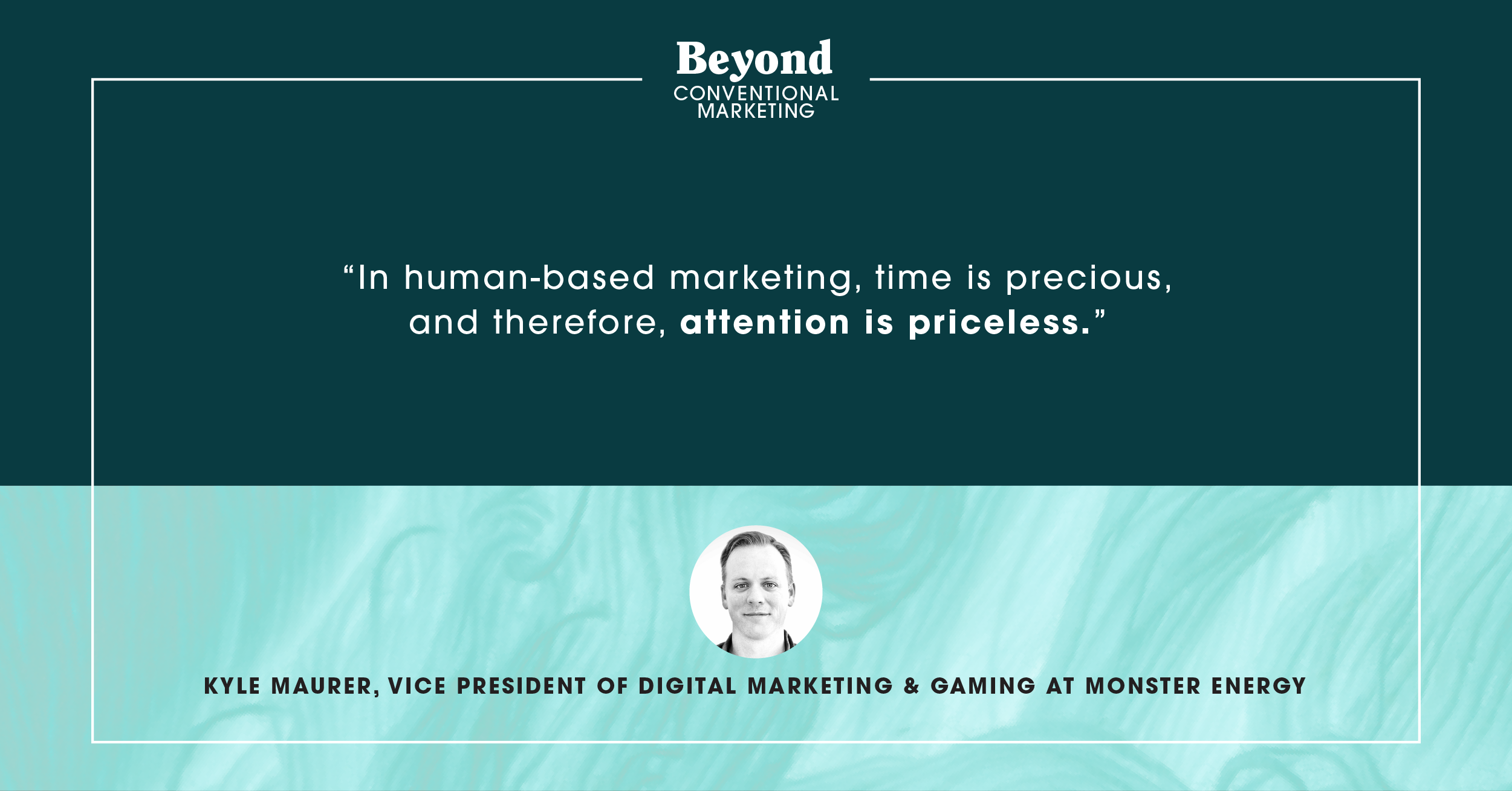 Kyle was at the forefront of digital marketing's transformation when social media entered the scene. When social media marketing took off, he saw the endless opportunities it had for gaining a deeper understanding of consumers. This new age of digital marketing allowed him to see consumers for what they truly are; human beings.
Listen to the full episode to hear more about Kyle's insightful perspectives on how human-based marketing is critical for managing consumer relationships and knowing how deep they're willing to go with your brand.
What you can expect to hear:
How to earn your audience's attention
Asking the right questions
Layers of audience
Importance of being iterative
Listen to the full episode for Kyle's insights on human-based marketing.
For more insights from marketing leaders you can also keep up with the latest episodes of Beyond Conventional Marketing by subscribing to the podcast on Apple Podcasts, Spotify or wherever you get your podcasts.
Listening on desktop and can't see the links? Just search for "Beyond Conventional Marketing" in your favorite podcast player.