In Episode 3 of Beyond Conventional Marketing, Diane talks to John Becker, CMO at Investor's Business Daily, a publication that covers the stock market, international business, finance and economics.
Listen to their full conversation here:
At Investor's Business Daily, John has created a digital marketing environment for continual optimization. About 90% of IBD's marketing efforts have been digital for the last six or seven years, meaning that to be successful, it's important to constantly experiment and try new things. The marketing team thrives on data – while they're still working on making the most of their data, John and the IBD team are putting actionable insights to use in real-time.
In this episode, John and Diane discuss his digital marketing initiatives, like:
Why your company needs to move quickly in digital marketing
Why John will test anything, even the ideas that seem crazy
The success of Investor Business Daily's influencer program after three years
IBD's newest digital initiative,

Moneyworks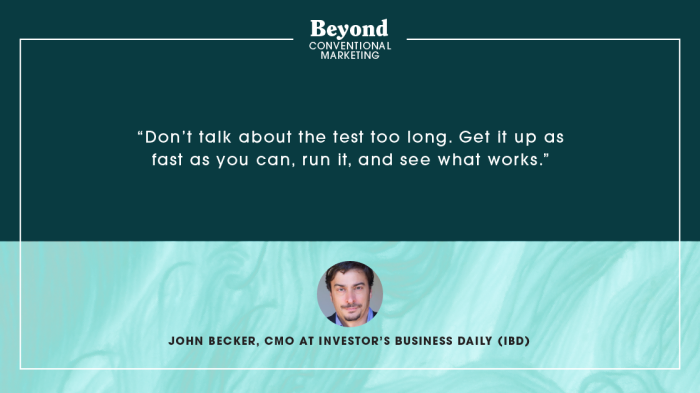 The main takeaway?
Not every idea is going to be a major success. That doesn't mean you shouldn't test it.
Your team doesn't have two months to discuss every new idea or marketing strategy. To stay competitive, you need to move from idea to idea rapidly. Figure out what works – and what doesn't – and keep on moving forward as fast as you can.
Now, that doesn't mean you should go off the rails and try things that don't align with your brand. It's important to stay on-brand and on-strategy, but get creative with your problem-solving. Listen to the full episode to hear about one of John's craziest success stories.
Keep up with the latest episodes and insights from Beyond Conventional Marketing by subscribing to the podcast on Apple Podcasts, Spotify, or our website.
Listening on desktop and can't see the links? Just search for "Beyond Conventional Marketing" in your favorite podcast player.