In Episode 7 of Beyond Conventional Marketing, I speak with Kacy Fabie, Head of Digital Marketing and E-Commerce at Colour Republic, to gain some insights on how to build a thriving e-commerce business.
Listen to the full episode here:
Colour Republic is a flower delivery service that provides sustainable, farm-fresh flowers from Ecuador to customers all across the USA.
In this episode, Kacy and I spoke about the complications of transitioning from traditional business models to e-commerce, and shared her tips for digital transformation in 2022. The main takeaway? No matter how complicated your business logistics are, it's crucial to harness the power of technology in 2022.
Kacy had some huge obstacles to overcome while learning how to sell fresh products through e-commerce channels. I asked Kacy what advice she had for marketing leaders going through a similar digital transformation, and she talks about:
Building an e-commerce business platform from scratch

The importance of logistics and customer experience

Adapting a 'learn as you go' philosophy to e-commerce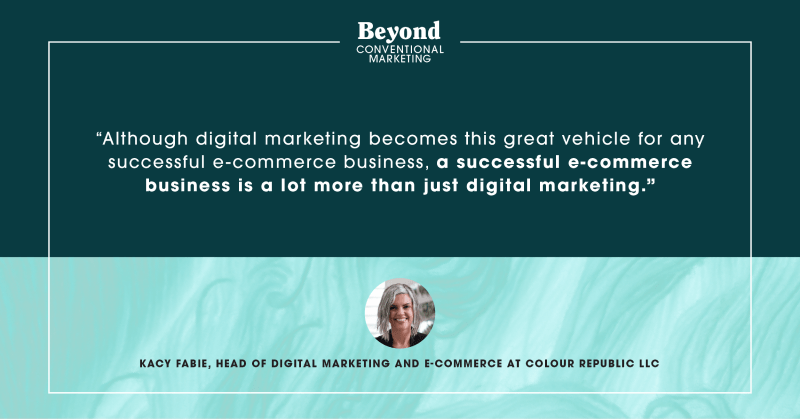 Kacy left our audience with some advice for marketers going through digital transformation to grow their e-commerce business. Her favorite quote is "if you want something you've never had, you have to be willing to do something you've never done." Building a vision for the future involves passion, curiosity, and drive.
Listen to the full episode to hear more on Kacy's insights on ​​why it's important for brands to be purposeful, and strategic with technology when building an e-commerce business.
For more insights from marketing leaders you can also keep up with the latest episodes of Beyond Conventional Marketing by subscribing to the podcast on Apple Podcasts, Spotify or wherever you get your podcasts.
Listening on desktop and can't see the links? Just search for "Beyond Conventional Marketing" in your favorite podcast player.