On this episode of the Beyond Conventional Marketing podcast, we chat with Orchid Bertelsen, COO of Common Thread Collective, a growth agency focused on D2C brands about how to effectively use technology to solve consumer problems and drive innovation.
Listen to our full conversation here:
Orchid was also formerly the Head of Consumer Experience and Strategy at Nestlé, where she led the team responsible for end-to-end consumer experiences across owned communications channels (email, website, SMS) and innovation..
In this episode, Orchid and I talk about her experience with digital innovations and how to stay current with technology trends while staying true to what consumers want. . While technologies are rapidly changing and brands try to keep up with Gen Z, the human element of marketing isn't going anywhere: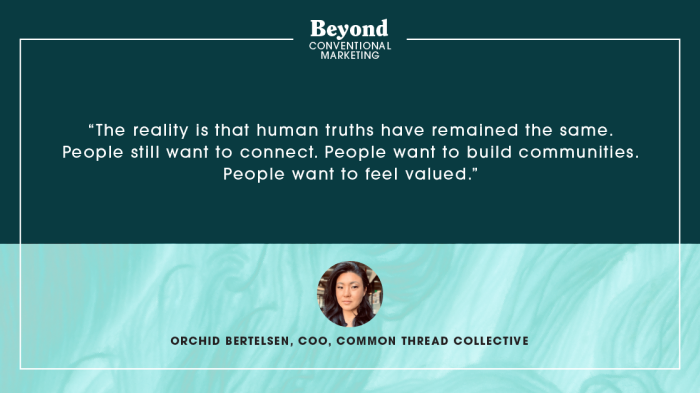 During our conversation, Orchid shares expert insights on:
How to use the

Gartner Hype Cycle

to source opportunities for innovation
Identifying the difference between tech that's important for your business vs. tech that's interesting or cool
Best practices for staying up-to-speed on technology and innovation in a rapidly changing world
Understanding what role technology plays in problem solving and scaling innovation efforts
Orchid shares many insights on how marketing leaders can execute innovation strategies and use technology effectively. But the great thing is that you don't have to have everything figured out yourself – it takes a village! Marketers can benefit from building a network that includes experts and individuals who are on the cutting edge of emerging tech and innovation (founders, vendors, SMEs). When you're connected to those kinds of people and have your own POV, it's easier to stay on top of tech discoveries and trends as they're happening and figure out what works for your consumers and your business.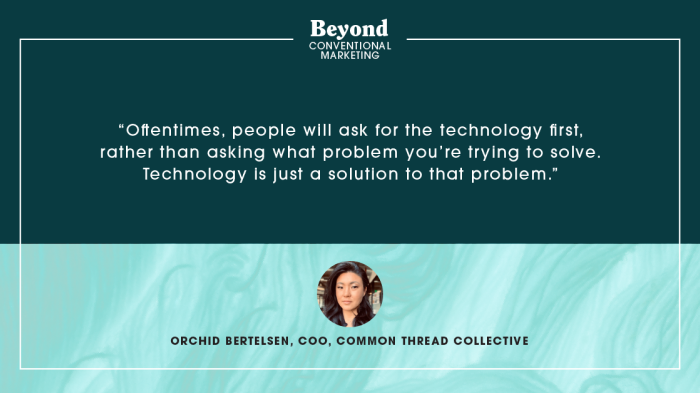 Keep up with the latest episodes and insights from Beyond Conventional Marketing by subscribing to the podcast on Apple Podcasts, Spotify, or our website.
Listening on desktop and can't see the links? Just search for "Beyond Conventional Marketing" in your favorite podcast player.
For more expert insights, subscribe to Beyond Conventional Marketing on your favorite podcast platform.